LET US TAKE CARE OF YOU
Be inspired by the welcoming atmosphere, the attention to details, a flawless service, be ready to get the most out of your stay in the Sorrento Coast at the Majestic Palace Hotel!​

Located along the Sorrento Bay, in a residential area dedicated to American writer Francis Marion Crawford, the Hotel is based in Sant'Agnello, in the heart of the Sorrento Peninsula, less than 15 minutes from Piazza Tasso, the main square of Sorrento.
It looks like as an imposing manor house that follows the typical architectural feature of the coast, well framed between the heights of the Gulf of Naples, with an eye to the sea and Vesuvius. A path of discovery winds through its rooms that leads from the park to the roof.
Built in the late 1960s, the Majestic Palace is a four-star hotel with 100 bright and spacious rooms, most of them recently renovated, all featuring a large private balcony with a terrific view of the hotel's private swimming pool or on the massive private garden of over 10,000 sqm, with centuries-old orange, lemon and olive trees.
FOOD & BEVERAGE PLEASURE
The gastronomic experience that you can live here at the Majestic Palace will blow your mind up and remain etched in your memories for a long time. The opportunity not to be missed is to experience a one-of-a-kind gourmet experience by booking a table at the Don Geppi Restaurant, a one star in the MICHELIN GUIDE 2023. Another highlight of the property is the Dry Martini Sorrento cocktail bar by Javier de las Muelas, with two locations, the Dry Martini Main Hall and the Dry Martini Terrace Cocktail Bar located on our panoramic terrace, where you can be part of a truly unforgettable experience. with a selection of over 200 cocktails, proposed by our one and only host Mr Lucio D'Orsi.
DON GEPPI RESTAURANT
The Don Geppi, Michelin Star since 2016, has only 12 exclusive seats.
The new room, designed by architect Giulia Rossano and realized in collaboration with the Academy of Fine Arts of Naples, leads the guest into an imaginative world that becomes a real temple of taste.
Dry Martini
il tempio della

mixology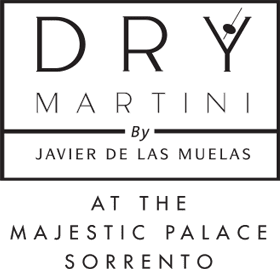 DRY MARTINI
Don't call it a bar, this is a true temple of mixology. At the Dry Martini Sorrento, on the terrace, in the main hall or by the pool, you can be part of a magic moment where every day , chemistry merged with perfect balance between tastes and scents, an unique experience tailored to each Guest.
ABOUT US
Nice little hotel just outside of Sorrento, good location with proximity to railway station, bars and able to walk into Sorrento. Great rooftop bar. Staff very pleasant and friendly. Hotel has its own Michelin star restaurant which is worth a visit if you want a higher end restaurant experience.
Booking
Ottima posizione, splendida vista, stupendo lounge bar "Dry Martini" sulla terrazza al 5° piano con vista mare e Vesuvio, personale molto professionale, cordiale e disponibile, colazione intercontinentale. La vacanza con la mia famiglia è da ricordare, luoghi stupendi, molto ben serviti e, non da meno, abbiamo riscontrato cordialità e professionalità da parti tutti gli addetti ai lavori. Complimenti
Booking
Si resta come abbagliati, commossi, con l'unico desiderio che l'esperienza al Don Geppi non finisca. Desiderio che si può esaudire a fine pasto o anche prima nel lusso altrettanto sfrenato del Dry Martini Sorrento, un'icona mondiale del bere miscelato dove anche eccentrico diventa abituale. Vale un viaggio, anche da un altro pianeta. Almeno una volta nella vita.
Tripadvisor